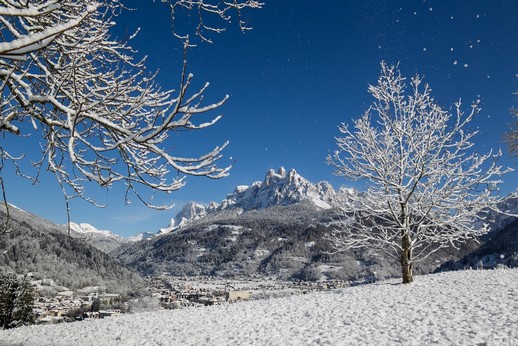 It is the wide valley at the foot of the Pale di San Martino that is home to six small but lively towns.
Not far from San Martino di Castrozza (14 km), Primiero boasts a range of accommodation options, from elegant hotels with wellness centres to bed&breakfasts and holiday apartments for rent.
The valley is located in Eastern Trentino and its main access is the Schenèr gorge that connects the Valle di Primiero with the area around the town of Feltre. Passo Rolle connects the valley to the Val di Fiemme, Passo Cereda connects it to the Agordo area, while Passo Brocon connects the neighbouring Valle di Vanoi with the Tesino hollow and the Valsugana. The grassy hollow of Primiero lies along the length of the Cismon River, which accepts a series of tributaries that run down the lateral valleys (Val Canali, Val Noana, Val Giasinozza).
The valley is surrounded by three mountain ranges: the Pale di San Martino to the north, the Lagorai to the west and the Vette Feltrine closing the hollow to the south.