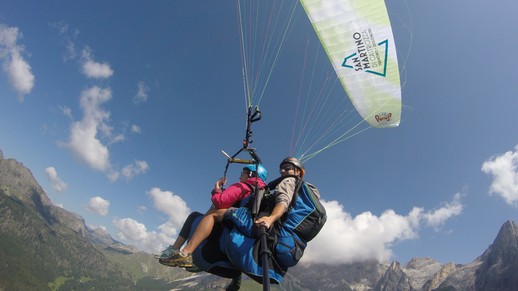 Flying has never been easier; it is mankind's dream within everyone's reach!
You will be accompanied in flight by an expert tandem paragliding pilot; all you have to do is admire the Dolomites and smile for selfies... To take off you just need a 10/20-step run-up to then feel lifted up and transported comfortably, seated in the dimension of birds. If the idea tickles you, if you want to break the routine, if you want an unforgettable memory of your holidays, try new emotions, or make a special gift, paragliding is the right choice!
DETAILED PROGRAM:
Departures: every day. After booking, we will agree on the exact time and the meeting point.
Take-offs: Agriturismo Maso Tais or Alpe Tognola depending on needs or weather forecast.
Difficulty: no athletic training is required, only the ability to take 10/20 steps at increasing speed on take-off. On landing, you simply remain seated.
Duration: about 1 hour of free time required. In air for 10 to 30 minutes depending on the type of flight.
Things to bring: comfortable clothes and sports or trekking shoes. Cagoule or windbreaker if cold. Sunglasses.
Limitations: passenger weight between 35 and 110 kg. No age limit.
INFO: