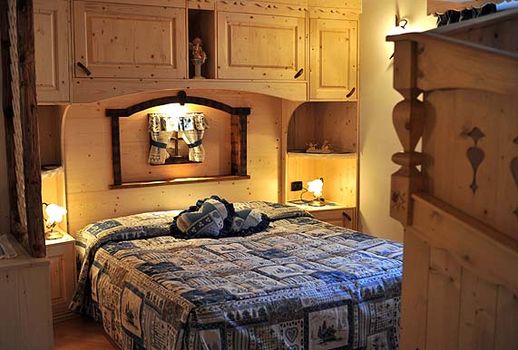 From elegant hotels with spas to friendly family-run hotels, from bed&breakfasts to high altitude mountain huts, from apartment hotels to farmhouse inns, from campsites to camper rest sites.
The types of accommodation offered by our tourist facilities are truly countless and suited to all needs: listed below are the features of each type of accommodation. In this section, you will find the complete list of the accommodation facilities found in the area.
With our search system, you can find the tourist facility most suited to your needs. The complete list gives an overview of what is available in each town.
Accommodation facilities: the different types of accommodation


Hotel: from 1 to 4s stars according to the amenities and services offered; they not only provide accommodation (generally in rooms with en-suite bathrooms) and a restaurant service but also sports and entertainment facilities;
Garni: these hotels have no restaurant but only provide accommodation and breakfast;
Holiday apartments: these provide accommodation in furnished apartments with a kitchen or kitchenette and often have sports and entertainment facilities in the shared spaces; in R.T.A. types (hotels with serviced apartments), a hotel service is also provided (daily cleaning service, change of bed linen). In some cases, a restaurant service is also offered;
Youth Hostels: these offer comfortable yet inexpensive accommodation in dorms to guests of all ages
Bed&Breakfast: accommodation and breakfast in family homes;
Guest-house: these offer accommodation in rooms with en-suite or shared bathrooms; in some cases, the facilities also have a restaurant service;
Esercizio Rurale: accommodation located in already existing traditional buildings in rural environment and having rooms for guests. In some cases rooms are in more apartments of the same building that have kitchenette or an own kitchen and offering accommodation and eventually food and drink service;
Farmhouse inn: these are farms that provide accommodation and a restaurant service serving primarily self-produced farm products;
Mountain Huts: these offer accommodation and a restaurant service in secluded mountain areas that are accessed by normal road;
Alpine Mountain Huts: these offer accommodation and a restaurant service in high mountain areas in places that are not accessed by roads open to normal traffic. Opening periods are guaranteed from 20 June to 20 September;
Campsites: open-air tourist facilities that provide temporary stays to tourists equipped with tents, campers or caravans;
Camper rest sites: equipped rest areas for campers providing pitches with water and electricity hook-ups and sometimes communal bathroom facilities as well.