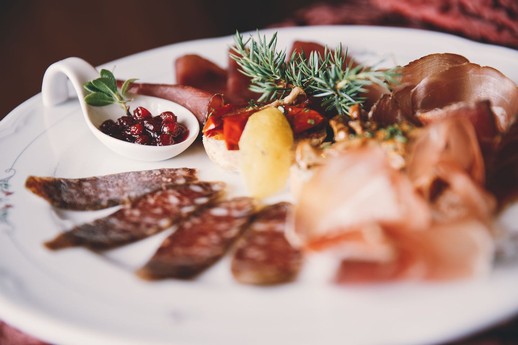 Tosèla
This is a fresh cheese (single curd, to be precise) that can only be found in Primiero:
it is produced from freshly-drawn milk
, preserving all the scents of mountain meadow herbs intact. Thickly sliced, tosèla is browned in butter over a low heat until the buttermilk has been completely reabsorbed. Browned on both sides, it is served hot with polenta, mushrooms and sausages.
Strangolapreti (engl. "priest chokers")
As everywhere in Trentino, it is easy to find this simple traditional "peasant" dish in all of the restaurants in Primiero. These are
small bread and spinach dumplings
seasoned with eggs, milk and salt. The dumplings are cooked in boiling water and served with grana cheese and melted butter. They are an excellent, light starter and a perfect prologue to whet one's appetite for the richer main course meat and game.
Canéderli
A delicious dish, ideal for cold winter days,
canéderli are typical dumplings
made of old bread soaked in milk, eggs, grated Trentino grana, diced cured meats and flour. This mixture, seasoned with salt, pepper, parsley and sautéed onion, is shaped into round balls. Canederli, cooked in boiling water, can be served in a broth or strained and covered in grated grana and melted butter.
Smoked Ricotta Gnocchi
In Primiero,
potato gnocchi
(small dumplings) are often served with "poina fumada": this is a type of cow ricotta that is slightly smoked to prolong its conservation, thus acquiring an unmistakable aroma, reminiscent of evenings spent around a flaming fireplace. When combined with tasty mountain butter, it enhances the gnocchi with a blend of flavours that are a true delicacy.
Barley soup
A creamy dish, pleasant on the palate, nourishing and light on the stomach. Barley is soaked in water to soften it and then cooked for a long time over a low heat with vegetables and beans and, in some cases, small strips of smoked meat. In its strained version, it is presented on menus as orzotto, often with mushrooms or pumpkin.
Game meat
Game dishes, with deer, chamois and roe meat, cannot be missing from local menus. These hoofed mammals thrive in our forests and were a fundamental food source for local inhabitants in the past. Cured, "in salmì" (marinated and stewed) with the inevitable polenta and mushrooms as accompaniment, grilled and served with blackcurrant, blue bilberry (giasena) or the more refined mountain cranberry (garnetola) home-made preserves.
Cakes: from strudel to wild berry cakes
There are so many cakes served in our restaurants that it is impossible to describe only one of them specifically. Warm apple strudel, ricotta tart, walnut and honey cake, light bowls of yoghurt with blueberries, spicy Lienzertorte, carrot and hazelnut cake.