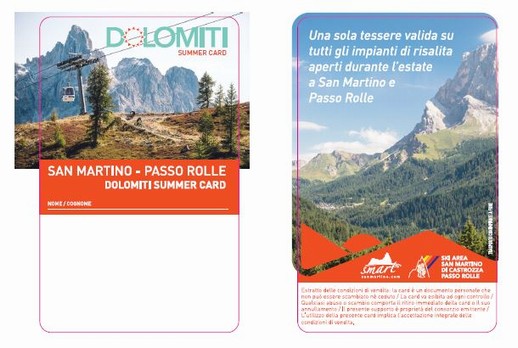 the card

All the ski lifts with just one ticket:

** COLVERDE CABLE-CAR - ROSETTA CABLEWAY
** TOGNOLA CABLE-CAR
** COLBRICON EXPRESS CABLE-CAR *NEW 2019!!*
** PARADISO CHAIRLIFT (ROLLE PASS)


A ticket valid for 3 days on the lift facilities in San Martino di Castrozza and Passo Rolle, that in a few minutes will take you to the heart of the Dolomites.

The Dolomiti Summer Card will be valid from 15.06 to 22.09.2019.



The card icludes, for 6 days from the purchase date also:
Free use of public transports in Primiero, from 29.06 to 1.09.2019, and the week ends of June and September;
1 entry to the Natural Park Paneveggio Pale di San Martino visitors centers: Paneveggio, Villa Welsperg or San Martino;
a 50% discount for the "Bike Sharing" service.


A 10% discount on :
Climbing course with Alpine Guides
Info: Guide office 0439 768795 (17.00-18.30) | info@aquilesanmartino.com.
Canyoning in Val Noana with Alpine Guides 
Guided excursion – Loc. Val Noana (Imèr). Info: Guide office 0439 768795 (17.00-18.30) | info@aquilesanmartino.com.
Tour sentiero Etnografico del Vanoi
Guided tour to discover the local traditions, in particular the dimonstration of an old hydraulic sawmill. Booking compulsory. Info: Associazione Ecomuseo del Vanoi tel. 0439 719106. Loc. Caoria (Valle del Vanoi).
Mountain Bike excursion with Primiero Bike instructors
Info and reservations: 3452312850 | info@primierobike.com.
MTB rental San Martino di Castrozza
Bike rental "SkiSport""- San Martino di Castrozza. Loc.palazzetto dello Sport San Martino. Info: tel. 389 0934023
MTB rental Mezzano
Bike rental Cicli Bettega – loc. Mezzano. Info: tel. 0439 725181 - 338 8278229
Bike Park San Martino Bike Arena
15% discount. Info: Tognola tel. 0439 68026 | www.tognola.it
Dolce Vita Spa & Wellness
Info: Charme Hotel Sayonara tel. 0439.68174 | info@hotelsayonara.com
Nordic Walking Lesson
15% discount. Info: Scuola Sci San Martino tel.0439 68182 | info@scuolascisanmartino.it
Pump Track Nasse Park – bike for children
Loc. Prà Nasse, San Martino di Castrozza. Info: cell. 340 6021362

CARD PRICES 2019:
Adults € 47,00
Junior (born after 01.01.2003) € 37,00
Groups (minimum 20) € 42,00
Children (born after 01.01.2011) FREE*
*Combined with a paying adult.
POINTS OF SALE:
Ticket counters of the Colverde, Colbricon Express, Tognola and Paradiso-Passo Rolle lift facilities
ApT offices
Skipass office
Primiero Iniziative
For information and inquiries, call: Tel. +39 0439.68505 / skipass@sanmartino.com