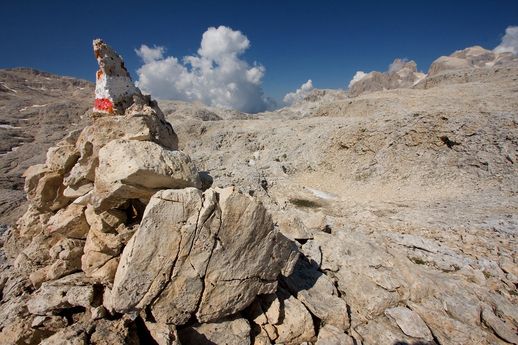 The Pale di San Martino
Majestic and elegant mountains of coral that tower monumentally over the surrounding landscape and yet blush like young lovers at sunset... these are the Pale di San Martino.
Their geologic history starts 300 million years ago: in a calm and shallow sea, huge coral colonies developed to create enormous reefs over a thousand metres high. After surfacing out of the water, these coral reefs were weathered by the elements and shaped into the pointed and sharp structures that mark the landscape today. The name
dolomia
– engl. Dolomite rock (to be precise, the Pale di San Martino are made of "Dolomia dello Sciliar") is a homage to Marquis
Déodat De Dolomieu
, who in 1788, while travelling through our mountains, discovered their chemical composition (the Dolomite rock is a combined calcium and magnesium carbonate). Yet what has always captivated visitors - from 19th century travellers to modern-day tourists - is most of all the
Altipiano delle Pale
: a stone plateau set at 2700 metres altitude, a lunar and mysterious landscape,
fifty square kilometres of bare rock
to be discovered.