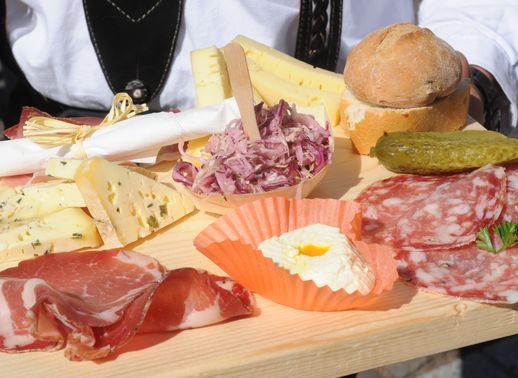 It is natural that a prized dairy tradition has developed in an area so rich in meadows and grasslands like Valle di Primiero and Vanoi. Over the years, and thanks to improvements in processing and maturing techniques, the types of cheese produced have increased both in quality and in variety, offering gourmand tourists a wide assortment to choose from:
from tosèla to local mature cheese, from Grana Trentino to smoked ricotta
. Using milk from local cows, the
Caseificio di Primiero
(Primiero Dairy) produces wholesome cheeses that are rigorously tested to give consumers a guarantee of high quality. Among the local culinary delights, there are also
smoked cured meats, honey and berries
.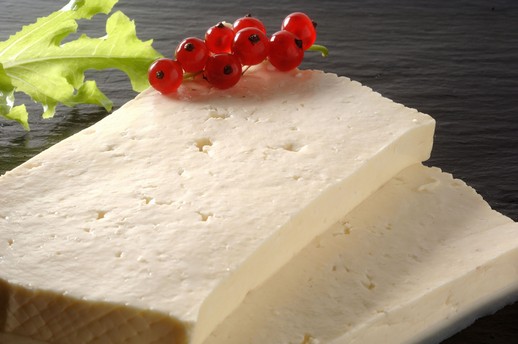 TOSÈLA
This is a fresh cheese typical to these valleys, produced by the Caseificio di Primiero. Usually it is enjoyed in thick slices, browned in butter and served still steaming with polenta and mushrooms. But it can also be enjoyed uncooked, diced or thinly sliced like carpaccio, seasoned with balsamic vinegar and served with a salad. Tosèla is produced every morning from freshly-drawn milk, preserving all the scents of mountain meadow herbs intact.
NOSTRANO DI PRIMIERO
This cheese has a strong taste and is produced with raw cow's milk. The Primiero mountain dairy cheese, made from alpine pasture cows' milk, is particularly appreciated. The smell of mountain milk, the maturing technique - similar to the "washed rind" method used in French cheese production - and the long ageing period give this cheese an intense and unmistakable flavour and taste. It is available in 2 versions that differ for their degree of maturing: fresh, i.e. aged at least 2 months, and mature, with the most prized rounds aged up to 16-18 months.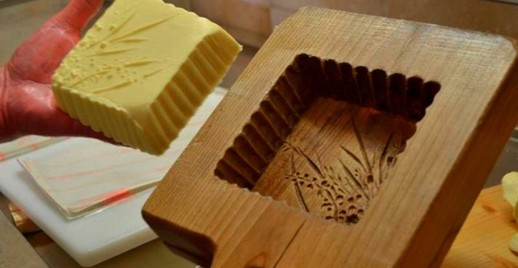 BOTIRO DI MALGA FROM PRIMIERO
This is a first-class butter from the meadows of Primiero and Vanoi: a product obtained from raw cream, skimmed off directly in the mountain dairy and then processed by the cheese-makers of the Caseificio di Primiero. Thus, golden slabs of butter are produced, shaped in wooden moulds, with a delicate and floral smell. The production of botìro, renowned for being the best butter in town at the time of the Republic of Venice, was started again in 2007 and is now protected as a Slow Food Presidium. Its quality is guaranteed by strict production guidelines.
NEW! FIOR DI PRIMIERO
It is the new born of the cheeses made by the dairymen of the Primiero Valley. Made with whole milk, its features are soft cheese and mold rind, with sweet taste and milk and cream scents.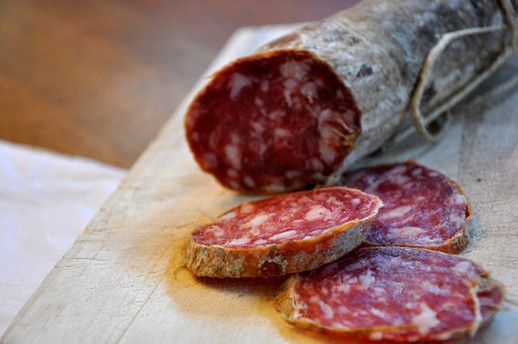 LUCANICA CAURIOTA
This is a spiced and aromatic cured pork sausage, to be eaten fresh, either grilled or steamed with sauerkraut. If matured or smoked, it is eaten sliced like salami. In the past, every family raised pigs for home consumption and the production of Lucanica was thus a ritual enacted in every home in the winter months.
CARNE FUMADA DI SIROR
... is smoked beef meat to be eaten raw. It is produced with the topside cut from boned beef hindquarters, marinated in a vat with salt, pepper, bay leaves, juniper and rosemary for 15 days. The meat is then dried, smoked in an oven using broadleaf wood and juniper branches and finally cured for at least one month. This method for conserving meat was used in Primiero as far back as the beginning of the last century.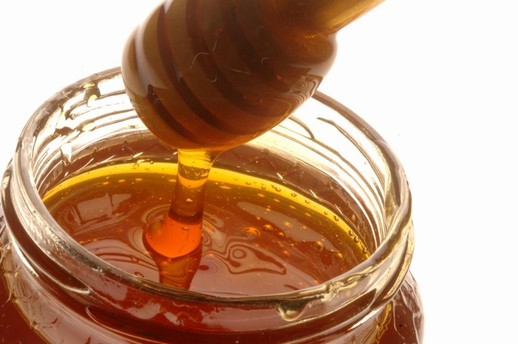 HONEY
Unspoilt meadows, traditional bee-keeping techniques and honey extraction methods guarantee the quality of mountain honey. Beyond mountain wild-flower honey, two particularly prized honeys are produced: rhododendron single-flower honey and wood honeydew.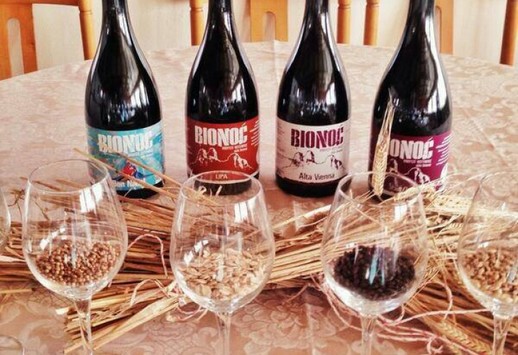 BIONOC - LOCAL BEER
Although beer is not a typical product of the Trentino, at the beginning of the twentieth century the prized brewery Valserena in Siror was producing 5,000 hl of it per year. The experience has today been resumed by the artisan breweries which offer high quality beers, some connected to local chains of cereal cultivation to obtain malts of merit. The Bionoc' brewery of Mezzano produces artisan beers that are not pasteurised in order to keep their aromaticity, not filtered in order to maintain body and refermented in bottles to ensure perfect preservation.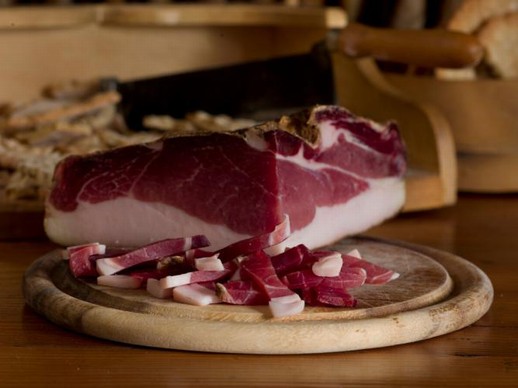 SPECK DI CASTROZZA
Speck is one of the best known delicatessen specialities of the Trentino and South Tyrol.The Taufer Family, butchers in San Martino since 1922, uses for the Castrozza Speck the more delicate parts of the thigh of the pig, which are dry cured for three weeks in a special brine with laurel, juniper, garlic and pepper. After intense cold smoking with beech wood, the speck is aged for months at a constant temperature of 14 degrees in special rooms in which the stimulating air of the Pale di San Martino circulates.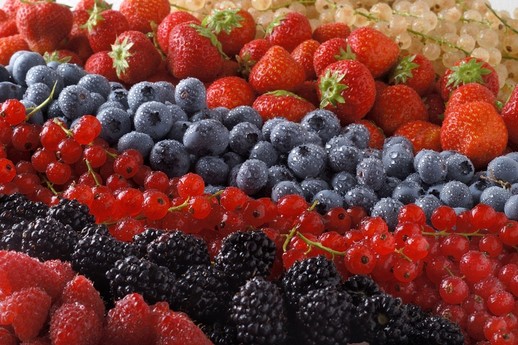 BERRIES
The altitude and climate of Primiero and Vanoi are not suitable for the typical crops farmed in Trentino - apples and grapes - but this land is ideal for berries, raspberries, blueberries, blackberries, strawberries and red and black currants. Recently, a few farms have started growing these delicious fruits, either sold fresh or processed into jams and juices.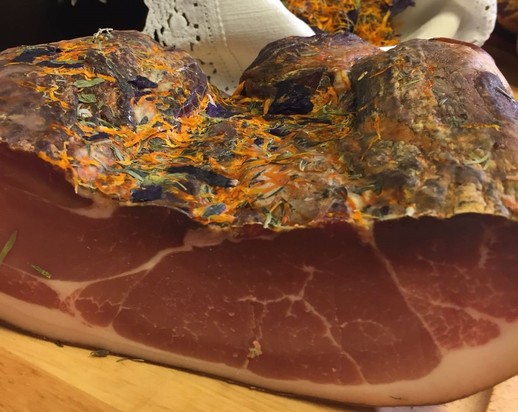 PRIMIERO HERBS AND FLOWERS SPECK

The Primiero herbs and flowers speck is made of pig's thigh from the Trentino region, treated with dry seasoning for fifteen days and, at the end of the two-month-long aging process, with herbs and flowers (mallow, savory and calendula) that the agricultural holding ERBORÌ grows in Tonadico of Primiero. The speck gathers its particular freshness, which makes it different from the typical specks that are usually produced. All made without allergens.
The Primiero herbs and flowers speck is the big news of the Bonelli's Butcher shop of Siror.