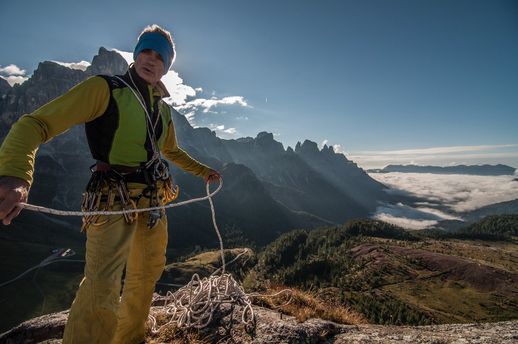 Many are the 'gyms' on which very strong climbers have been able to train, one among them being
Maurizio Zanolla
,
better known as Manolo
, from the particular porphyry slabs of Tognazza to the historical and selective crags of Monte Totoga and Turgion, from the comfortable routes on the Castel Pietra fortress to the more demanding ones in the Schener Valley or in the charming Val Noana.
More than 1,000 routes in 53 crags
, each with its own peculiarity. The crags of Primiero have entered the history of sport climbing thanks to some particularly beautiful and difficult routes.
Tognazza
Porphyry wall near Passo Rolle. It has 23 well-marked routes with difficulties ranging from 5th grade to 8b.
Mulaz della Rosetta
Blackish rock wall between Dente del Cimone and Rosetta, accessible in 15 minutes from Colverde. There are at least 16 marked routes ranging from 5th grade to 7c, all opened by the financier Alfredo Bertinelli.
San Martino
Two other little-known areas around San Martino: one near Prà delle Nasse, 'Marco's Area', the other not far from the Colfosco 'Silly' hotel.
Castelpietra
Historical crag on the rock that supports the ruins of Castel Pietra, in Val Canali. At least 28 routes of various difficulties on the various slopes, from 3 to 7b.
Val Noana
Probably the most technical and fascinating; it has three equipped sectors ('Clacson Cliff', 'Coradole', 'Goblin') with over 70 routes with difficulty from 5 to 8b/c.
Val de Riva
In Val Noana, where the stream enters the artificial lake. Equipped crags that are very interesting due to their strategic position and the particularly charming environment. 'Nerofumo' and 'Riva Crak' have passages from 6a-8a.
Baule
On the Vette Feltrine near the Boz Refuge, it is the farthest gym from Primiero. They are almost all routes above 8a and some above 6c.
Totoga
The mountaineering history of this mountain begins in 1979 when Manolo set out in search of crags in the valley floor to climb at a high level even when it is impossible in the high mountains.Fifteen areas, for a total of almost 100 equipped routes not very suitable for beginners and with difficulties ranging from 6a to 8b.
San Silvestro
Easy to access at the entrance to the Primiero valley, not far from the Totoga tunnel. It has five sectors, some also suitable for the less experienced, for a total of almost 70 routes.The difficulties range from 4 to 8a+.
Turgion
The only one in granite, located in the Vanoi Valley with more than 20 routes with difficulties ranging from 4 to 9.