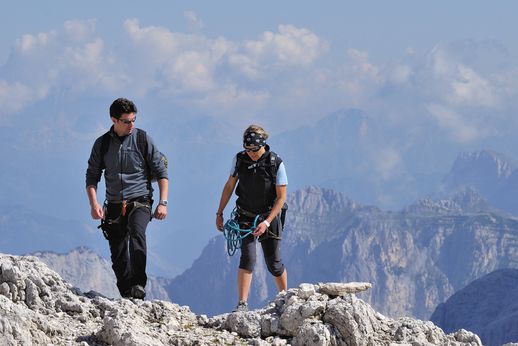 Trek
The great treks across the mountain ranges that enclose the Primiero and Vanoi valleys can be carried out in one day or, if more than one day is necessary, can include an overnight stay at a mountain-hut or bivouac.
Pale di San Martino Trek
From Rifugio Pedrotti - Rosetta to Rifugio Canali - Treviso across Passo Canali (signposts No. 709-708-707): elevation gain 250m, elevation loss 1600m, 6 hours, difficult.
Vette Feltrine Trek
From Rifugio Boz to Rifugio Vederna across Passo Finestra/ Monte Pavione (signposts No. 801-736): elevation gain 600m, elevation loss 1000m, 8 hours, difficult.
Lagorai Trek
From San Martino di Castrozza to Passo Manghen passing by Rifugio Cauriol (overnight stay):
elevation gain 2800m, 10+9 hours, difficult (see stages 2 and 1 clockwise of the 'Trekking delle Leggende').