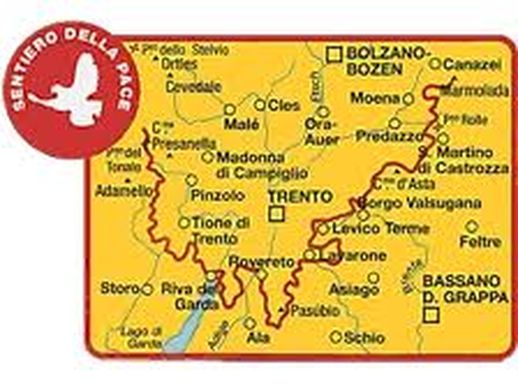 the map
The Peace Path is a tourist-trekking trail of great historic importance, unfolding over more than 450 kilometres along paths, forest roads, trenches and walkways that connect the Stelvio area to the Marmolada range, retracing the front line of the First World War.
It can be undertaken by a normal hiker in 28-30 days but single stretches of the itinerary can also be covered independently, of course. The trail also has alternative side routes for one-day-trips to reach significant wartime remains.
In our area, the stage starts from the Rifugio Refavaie (1116 m) in Valle di Vanoi and in no time reaches the town of Caoria (828 m), home to the Lagorai War Museum and a former war cemetery.
The Trail then climbs up the Valsorda, full of alpine farmhouses and mountain pastures, to the Malga Tognola di Siror, a former mountain dairy (1988 m, 4 hours from Caoria), not far from Pian dei Cannoni. The trail then continues onwards to Malga Valcigolera (1880 m), then crosses Pian delle Cartucce along ski-slopes and finally reaches the Rifugio Colbricon (1927 m, 5.30 hours from Caoria). Descending from Passo Colbricon, it reaches the homonymous mountain dairy and then Paneveggio (1504 m), where it crosses the national road that climbs up to Passo Rolle (8 hours from Caoria).