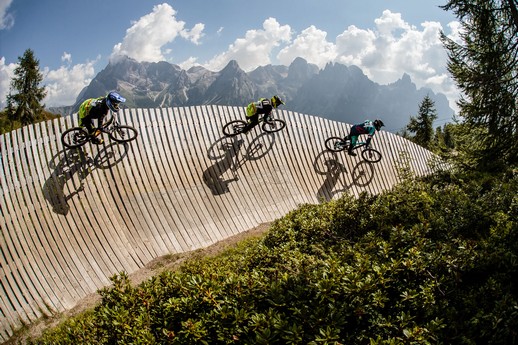 TOGNOLA DH UNO

For lovers of pure downhill, a trail of over 5 km that descends along the slopes of the legendary Tognola UNO in front of the Pale di San Martino, for over 700 meters of vertical drop. A varied and fun course with an excellent flow, fun for both experienced and novice bikers.
Full-day, 4-hour, or single-lift tickets available.
TOGNOLA DH DUE

Second trail of the bike park San Martino Bike Arena, Tognola DH DUE is a more demanding variant of the famous Tognola DH UNO. A challenging and fun course characterized by boardwalks, nortshore sections, and an easy road-gap: a true adrenaline pump!
Full-day, 4-hour, or single-lift tickets available.
Try the new line that from the variant between slope UNO and TRE goes down to the valley through the woods surrounding Malga Crel: a more demanding line to discover, with 7 artificial wooden structures and a length of over 2 km.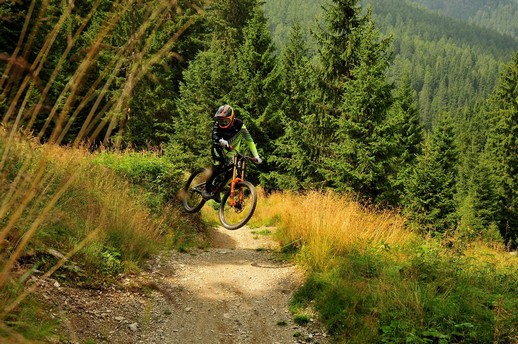 VALSORDA ENDURO TRAIL

A new Enduro trail that has just been renovated. From Alpe Tognola, it descends toward Caoria and the Vanoi valley along the Scandola meadows and the Masi di Tognola.
A first part on boardwalk followed by a path in the woods, completed by a last stretch of forest road.
One-way ticket available with organized return via taxi from Caoria or Fiera di Primiero.
VALSORDA XC TRAIL

An XC/Enduro trail for true enthusiasts, varied and fun but requiring good training: from Alpe Tognola, you descend toward the Valsorda road along a stretch of boardwalks and a path in the woods, to then go back up partly by pedalling and partly by pushing until Forcella Valsorda.
From there, you go down to Zortea along an old mule track, and return by taxi or pedalling to Lake Calaita.
An epic ride for tough riders.