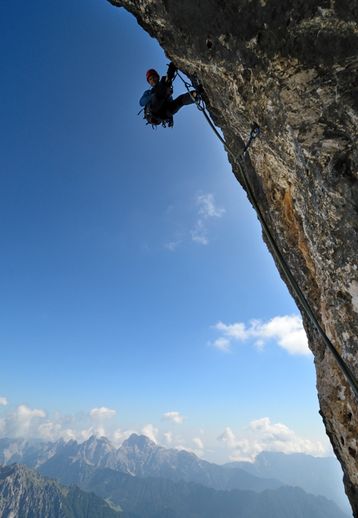 Free climber in action
Free climbing is one of the most practised sports among the climbing disciplines. There are many crags in the area where the best climbers have trained. Foremost among these is Maurizio Zanolla, known to all as Manolo. A total of 25 medium-difficulty routes are present, and in prime condition thanks to the excellent maintenance work carried out by local climbers.
Tognazza
Porphyritic crag near Passo Rolle. It has 23 well-marked routes, graded between 5a and 8b.
Mulaz della Rosetta
This crag of blackish rock is between the Dente del Cimone and Rosetta peaks and is reached in 15 minutes from Colverde. There are at least 16 marked routes graded between 5a and 7c. All were bolted by Alfredo Bertinelli, an officer in the Italian finance police.
San Martino
There are another two little known areas near San Martino: one is near Pra delle Nasse, "Marco's Area", the other is not far from the Colfosco "Silly" hotel.
Castelpietra
Historic climbing wall on the boulder that supports the ruins of Castel Pietra in Val Canali. There are at least 28 routes all around the boulder, of varying grades from 3a to 7b.
Val Noana
Probably the most demanding and fascinating crag of the area; there are three different equipped sectors (Clacson Cliff, Coradole, Goblin) adding up to over 70 routes graded from 5a to 8b/c.
Val de Riva
In Val Noana, where the torrent pours into the artificial lake, there are some quite interesting equipped crags in a strategic position, set in a particularly enchanting landscape. "Nerofumo" and "Riva Crak" have routes graded from 6a to 8a.
Bàule
This is the furthest crag from Primiero, on the Vette Feltrine peaks near the Boz mountain hut. Nearly all the routes are above 8a and a few are graded 6c.
Totoga
The climbing history of this mountain dates back to 1979 when Manolo was looking for crags near the valley floors to be able to climb hard routes even when it was not possible to do so higher up in the mountains.
Fifteen areas with nearly 100 equipped routes, not suitable for beginners and graded 6a-8b.
San Silvestro
Easily accessed at the beginning of Valle di Primiero, not far from the Totoga tunnel. There are five sectors, some also suited to beginners, for a total of nearly 70 routes.
The grades range from 4a to 8a+.