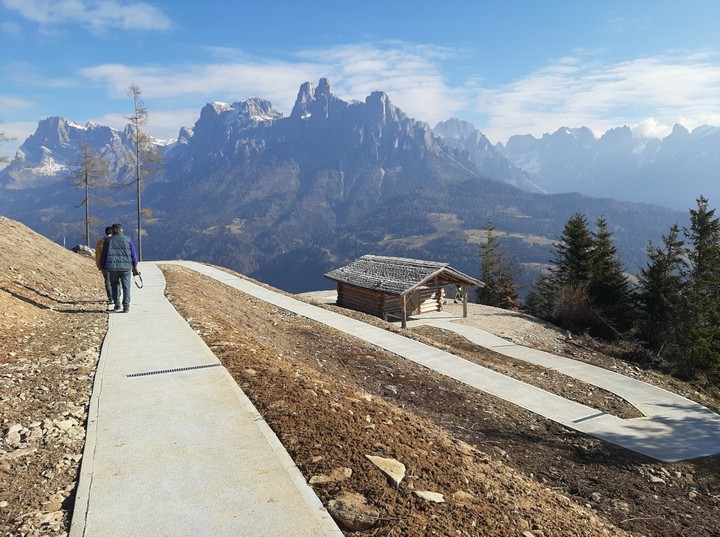 02/07/2023
Works on the Mount Bedolè slope were recently completed. The project was commissioned by the Primiero San Martino di Castrozza Administration to repair the damage caused by the storm on one of the Primiero valley's best-known backdrops.The works were financed by European funds, specifically Call 7.5 of the Local Action Group (LAG) of Eastern Trentino for the "redevelopment of tourist infrastructures". The works involved the redevelopment of important paths (Sat 355 and 356) leading to Mount Bedolè, which has always been a popular viewpoint for all those who are passionate about these valleys, as well as three spots of considerable scenic value for the entire territory:
Forcella di Calaita
: the panoramic terrace par excellence on the Pala group. The aim of the project was to reconstruct the vegetation cover in an area devastated by Vaia, and also enhance the value of this terrace from which one can admire the West Dolomites, a Unesco World Heritage Site, but at the same time rebuild and make usable one of the Great War sites, explaining its history on information panels.
Church of St. Valentine in Dismoni
: the arrival point of the "nectar of life" trail, a low-altitude route connecting the town of Siror with the small Church. The works are aimed at enhancing the surroundings of the site while also repairing the damage caused by Vaia.
Forestry hut on the "Bedolè alta" forest road
(approx. 1,500 m): In addition to the storm damage repair works already carried out in this area, the Municipality of Primiero San Martino is considering future enhancements to this site, which enjoys an incredible view over the entire Primiero valley, the village of San Martino and the imposing peaks of the Pala group.
The idea is to symbolically transform it into a special high-altitude meeting point for hikers coming from paths 355 and 356, who climb here from the valley floor headed towards the mountain peak, and possibly for friends and guests with motor disabilities, who together with their companions could reach the area with the necessary permit for travel on a type B forest road.
Once at the site, they could travel the last stretch (approx. 400 m) on an accessible path to the forest hut, a typical log structure (in Primiero dialect, "stelari") that was formerly surrounded by a dense spruce and fir forest.
It would also serve as a high-altitude themed reading room, featuring books about the mountains and the history of the Primiero valley. A genuinely meaningful experience designed for those who wish to share their passion for the mountains and these valleys.