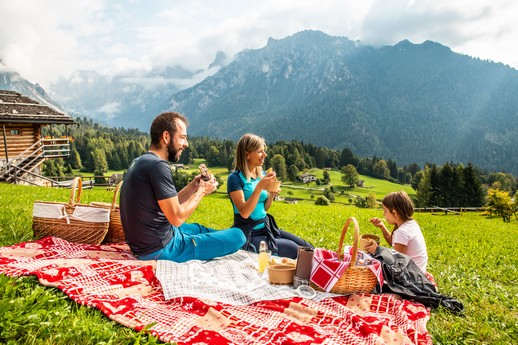 At the foot of the
Pala Group
nature releases well-being, beauty and... alternative meals!
The keyword of this summer 2020 is picnic, or better
#CheeseNic
. From holiday farms and mountain dairies to bars and restaurants, in
San Martino di Castrozza, Passo Rolle, Primiero and Vanoi
there are many possibilities to buy a delicious bag
lunch
that tastes of local cheese and not only. A suggestion? try the new
Cheesenic 100% Primiero
, that combines the
cheese of Primiero
cheese factory and the
Carne Fumada di Siròr
by Bonelli butcher shop with Bionoc''
craft beer and mountain herbs infusions
by Erborì, to get your fill of well-being! You just have to contact the shop (or restaurant, holiday farm and so on) you prefer to order your #CheeseNic, or you can buy it online. Then all you have to do is to choose the ideal table for your meal: a
meadow
in front of the Dolomites
surrounded by cows, next to a fresh mountain river or a silent place where the only noise is made by little birds?
And don''t worry if you don''t feel like having a beautiful walk in the mountains before enjoying your meal. You can take the lifts and be up there in a few minutes and without any effort!
Another great experience is
Albe in Malga
("dawn in a mountain dairy"), which allows you to live
one day like the local malgari
(workers taking care of the cattle and the dairy). Those who don''t like waking up early in the morning can choose
Tramonti in Alpeggio
("sunset on the mountain pastures"). Taking care of calves, learning how to make cheese and breath the nature making a beautiful walk at sunset will let you get your fill of
genuineness and serenity
.