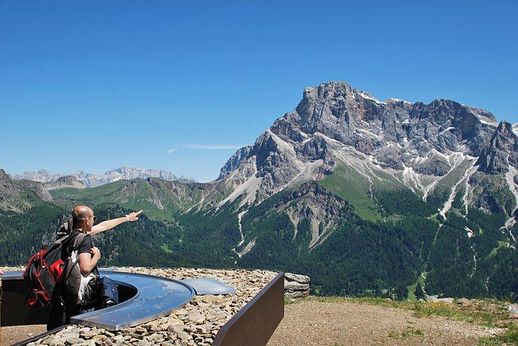 The balcony
A new lookout point over the Dolomites was born at Alpe Tognola!
Made by the Parco Naturale di Paneveggio-Pale di San Martino, the UNESCO Dolomites balcony offers a breathtaking view, from Lagorai's range to the Vette Feltrine, passing through the imposing group of the Pale di San Martino.
The journey to get there is a true historical relic of mountain tourism: the visible ruins belong in fact to the historic mountain refuge Tognola and the arrival station of the old 'slittovia' (an old version of the modern chairlifts and skilifts), built in 1937 by Herman Panzer. Shortly after the war, the service was suspended to then be restarted by the Germans in 1943, with the intent to divert its troops, and then to abandon it again.
HOW TO GET THERE
The balcony can be easily reached by foot from the arrival station of the Tognola cableway in about 15 minutes, or from the San Martino di Castrozza, in about 1.5 hours, along the recently restored "Sentiero del Panzer".
GEOLOGY AND GEOMORPHOLOGY
The site has two explanatory panels. The text of the panels is written by Elena Luise and has been extrapolated from the geological booklets published by the Park, on sale at the Visitor Centres and on the Park's website.
Visit the website of the Parco Naturale di Paneveggio - Pale di San Martino to learn more (page in Italian),
click here!