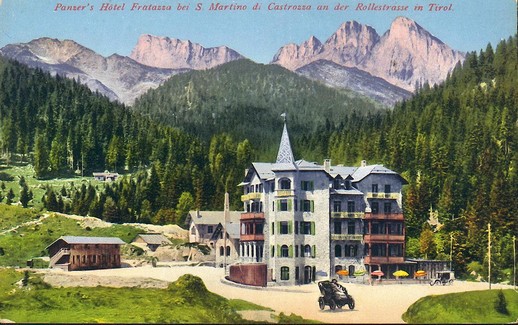 Between the end of the 19th and the beginning of the 20th century, San Martino was a particularly loved holiday destination, not only by the pioneers of mountaineering but also by the intellectuals of the middle-European Bourgeoisie, from Sigmund Freud to Arthur Schnitzler, one of the main character of the international literature.
Schnitzler, who was an austrian writer, playwright and doctor, was fascinated by this little alpine capital where he sometimes spent his holidays and chose it as background for one of his most famous novels, Fräulein Else.
The book is an inner monologue that makes readers live the same feelings Miss Else felt in her last hours of life, spent in
San Martino di Castrozza
during a holiday with her aunt. The story should be read sitting at the table of one of the many dehors of San Martino di Castrozza looking at the so-called enrosadira (alpine glow).
The hotel in which the story takes place, immersed in the wood and at the feet of the Pale di San Martino, doesn't exist anymore. By the way, a simple walk in San Martino di Castrozza will let you feel like the young protagonist of the story and find the same atmosphere of the first travelers who visited San Martino between the end of the 19. and the beginning of the 20. Century.