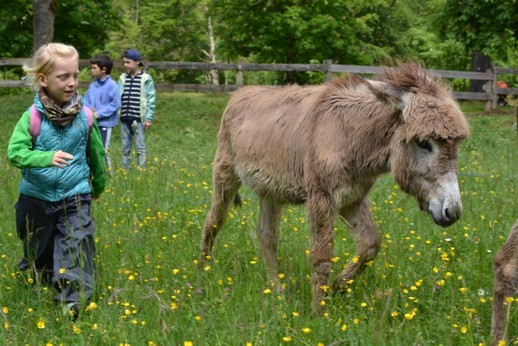 The splendid backdrops of San Martino di Castrozza and the valleys of Primiero and Vanoi at the foot of the Pale di San Martino deserve more than a fleeting stop and a few quick snapshots. Once in a while, the views can entice us to stop for a pleasant break while hiking towards a mountain hut or dairy. Often they lead to veritable moments of relaxation and reverie, alone or with friends, while thoroughly enjoying this fantastic landscape made of strikingly beautiful sharp pinnacles, a "World Heritage Site" since 2009.

This year, there will be a new opportunity to experience the natural environment of the Paneveggio - Pale di San Martino Nature Park. Travelling with a donkey gives a different perspective to the experience of trekking. Even better than a simple hike through the mountains: when hiking with donkeys one walks less and better while in the company of a gentle and wise animal. This is the essence of the hiking experience "Where the donkeys think".

The practical knowledge of Valentina Musmeci, organizer of these activities, the authentic passion and ability of the local guides and the rare beauty of the Paneveggio - Pale di San Martino Nature Park are the ingredients that,when brought together, result in an absolutely novel and unforgettable experience, in the simple activities of a daily outing or in longer hikes over several days.

"It is man that has to adapt to the donkeys, thus everyone walks at the same pace. The rhythm of men adjusts to that of the donkeys. When a rhythm adjusts to another rhythm this creates harmony, in the same way as harmony is created in music. And harmony leads to peace and serenity".

"To walk in the mountains with a donkey is not merely a way to have your backpack carried by someone else. It is a different perspective and experience of a journey. It is to live slowly".

(Extracts from "Dove pensano gli asini" by Valentina Musmeci, Curcu&Genovese).