The San Martino di Castrozza and Passo Rolle ski area covers almost the entire area of the Paneveggio - Pale di San Martino Nature Park, a landscape of great environmental value with majestic forests, wild animals, dolomitic peaks and countless mountain dairies that in summer produce the cheese for which this valley is famous.
Setting off from the Prà delle Nasse biotope towards Punta Ces: in the distance, the Colbricon lakes can be glimpsed, above which golden eagles are often seen circling.
Skiing down the "Rekord" run, you can catch sight of chamois busy nibbling at the few tufts of grass in the woods.
After a stop at the rustic Malga Valcigolera, the tour continues towards Cima Tognola (2383 m), an outstanding viewpoint. Malga Tognola offers a taste of the typical local cheeses such as tosèla and Nostrano di Primiero.
Unforgettable
The descent down the "TognolaUno" run to Malga Fratazza is one of the longest and most picturesque in the Dolomites. After crossing the town of San Martino di Castrozza on the skibus, the ski-lifts run up first to the Rifugio Colverde and then up to Cima Rosetta at 2600 metres in altitude.
In a magically hushed atmosphere, a breathtaking view opens out onto the Pale di San Martino plateau, from Sass Maor to Cimon della Pala with the Marmolada in the background. Rocky outcrops, snow and sunshine all around: simply unforgettable! After a day high up in the mountains, the last descent leads back to San Martino with the last rays of sunlight turning the mountains a vivid red colour. Before a glass of wine, the evenings are whiled away listening to the legends of the Dolomites.

Not to be missed
Passo Rolle also offers great skiing thrills. The runs wind along the edge of the Paneveggio Forest, the green heart of the Nature Park, renowned as the "Forest of the Violins" for the prized wood it produces, that has been used for centuries for making musical instruments.
Baita Segantini is not to be missed, with its famous view on the rocky spire of Cimon della Pala.
We recommend expert skiers to try the "Paradiso I" run, a truly breathtaking vertical wall.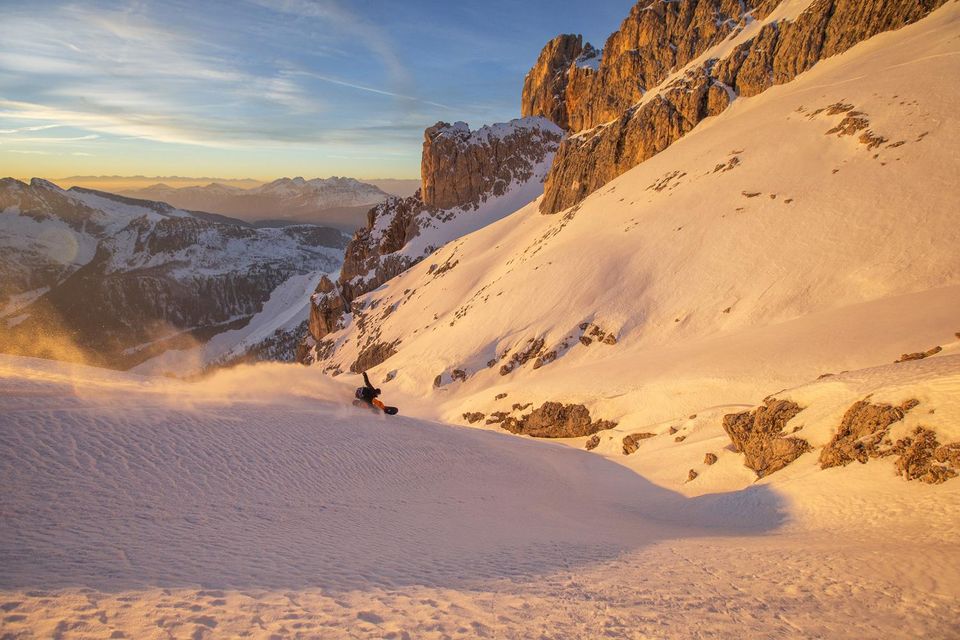 Daniele Molineris - Stefano Munaro / King of Dolomites