SNOWSHOES EXCURSION
Even people who are not that keen on sport have discovered the pleasure of excursions in the winter woods on snowshoes.
The old wooden "craspe" or "ciaspole", as they are called in Italian, with string bindings, have now been replaced by modern, lightweight versions in metal or plastic that are done up like standard ski boots. Learning how to use them is really easy, so even children will fall in love with this sport which allows you not only to partake in pleasant strolls, but also to perform jumps, dives and somersaults in powdery snow.
Every day, the Alpine guides organise excursions to the most beautiful areas: the Colbricon Lakes on the trail of prehistoric hunters, the plateau of the Pala mountain range in a fascinating atmosphere created by the "sea of snow", the Piani della Cavallazza which is the kingdom of the chamois, the magical Val Venegia, and hiking trail of the "Cristo Pensante" on Mount Castellaz.
Cost:
€ 30 all day, € 20 half day, € 15 excursions at sunset or in the evenings, including snowshoe hire and poles, plus the services of an Alpine guide. Any charges for using ski lifts are borne by the participants.
Info and booking:
Alpine Guides office (c/o Tourist Office San Martino di Castrozza)
open every day from 5.00 pm to 6.30 pm, tel. +39 0439 768795 Cell. +39 342 9813212
Excursions starting from Fiera di Primiero

Itineraries to be agreed directly with the Alpine Guides.
Alpine Guides Fiera di Primiero, tel. +39 347 9929755.
SNOW SAFETY COURSE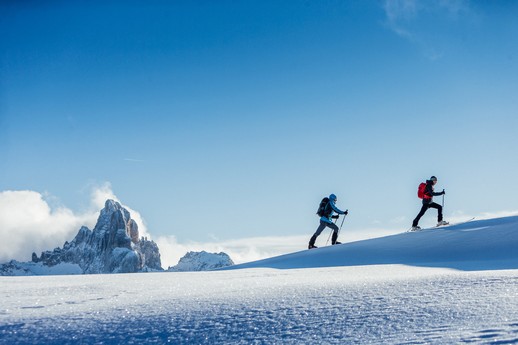 San Martino di Castrozza
A short course held by the Alpine guides to learn the basic notions of snow cover and avalanche rescue techniques. You will learn how to safely tackle winter activities in the mountains - snowshoeing, ski mountaineering and freeriding.
When:
every Monday, from 2pm to 6pm.
Cost:
€ 40.00
Info and bookings:
Alpine Guides tel. +39 328 8743739 - +39 0439 768795.